Seigo Aihara
Birthdate
December 05, 1962
Occupation
Radio Celebrity
Aihara Seigo((相原誠吾) )was a publicity manager at Atlus an one of the member of the development team of the Goketsuji Ichizoku series. He provided the voice for the characters Keith Wayne, Reiji Oyama, Sahad Asran Ryuto and Saizo Hattori. He just to use the alias Ryusei Yarou. Being credited in Power Instinct 2 and Power Instinct Legends as Ryusei Yarou Aihara. By the time of development of Power Instinct 2, he had a radio program in Kansai Radio along with Mitsuishi Kotono, to whom he invited to participate in Power Instinct 2 as the voice of Kurara Hananokoji.
In the videogame Pesona 2: Innocent Sin and Persona 2: Eternal punishment, there is a character named Ryusei Yarou(Meteor Boy) alias Meteor Masa who is modeled after him.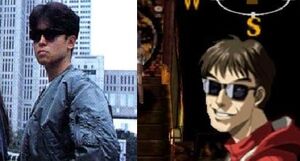 External Link
Edit
Ad blocker interference detected!
Wikia is a free-to-use site that makes money from advertising. We have a modified experience for viewers using ad blockers

Wikia is not accessible if you've made further modifications. Remove the custom ad blocker rule(s) and the page will load as expected.