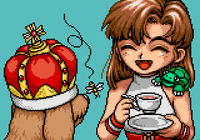 Dante is the name of one of Annie Hamilton's pet dogs who has made an occasional appearance or two in the series, usually in her endings. However, he apparently tends to suffer in misfortune in the two times he's been shown.
In Power Instinct Matrimelee, his name was changed to Andy. The name change didn't seem to stop his bad luck, though. It's possible that it's just another one of Annie's dogs, but that's uncertain right now.
Ad blocker interference detected!
Wikia is a free-to-use site that makes money from advertising. We have a modified experience for viewers using ad blockers

Wikia is not accessible if you've made further modifications. Remove the custom ad blocker rule(s) and the page will load as expected.