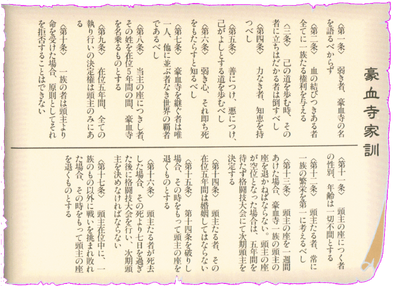 Those who are weak should not wear the name Goketsuji
All those with Goketsuji blood ties have the oportunity to advance to a higher Rank into the family
Every one must follow his/her own way and avoid the defeat.
Must have power and wisdom.
Being good or being evil, always must follow the path of self-righteousness.
Shall be aware that a weak spirit can lead to death.
The Goketsuji successor will be the one who defeat the actual champion only.
When becoming the new leader his/her family must take the Goketsuji family name during his/her leadership.
The leader has the absolute power to decide on everything in the family during his/her term.
If the leader directly invite or challenges  someone to a tournament, the invitation can not be refused.
Gender or age of the leader will be absolutely unobjectionable.
The leader always must  look for the prosperity of the family.
If the seat of the leader remains vacant for more than one week, the family must organize a new ceremony to choose a leader without waiting for the established time period.
The leader must not contract matrimony during his/her five years of leadership.
If the article 14 is violated , the title of leader will be retired.
If the current leader dies, a new tournament must be organized seven days  after his/her death to decide who will be the successor.
During the five years of leadership the leader can be challenged by family members or outsiders, but only will be  considered leader the one who defeat the leader in the Goketsuji tournament. 
Ad blocker interference detected!
Wikia is a free-to-use site that makes money from advertising. We have a modified experience for viewers using ad blockers

Wikia is not accessible if you've made further modifications. Remove the custom ad blocker rule(s) and the page will load as expected.