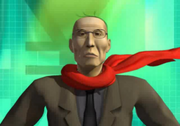 Hayato Muichimon (無一文隼人, Muichimon Hayato) is a middle-aged man who was made very poor by the company he was working for due to their restructuring strategy and sings the song "The No-Money Ranger" in Power Instinct Matrimelee and Shin Goketsuji Ichizoku: Bonnou no Kaihou. Hayato was voiced by Fujiwara Masanosuke.
Appearances
Edit
Power Instinct Matrimelee
Shin Gouketsuji Ichizoku: Bonnou no Kaihou
His last name literally translates to "a person who spent all their money".
Ad blocker interference detected!
Wikia is a free-to-use site that makes money from advertising. We have a modified experience for viewers using ad blockers

Wikia is not accessible if you've made further modifications. Remove the custom ad blocker rule(s) and the page will load as expected.