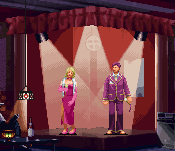 Hide and Kei (ヒデ&ケイ) are two members of rival ninja clans who are in love but must fight because of it, explaining it in the form of the song "Ninja Love, Goketsuji Style". Hide & Kei were voiced by Moamo and Cheiko.
Appearances
Edit
Power Instinct Matrimelee
Shin Gouketsuji Ichizoku: Bonnou no Kaihou
Ad blocker interference detected!
Wikia is a free-to-use site that makes money from advertising. We have a modified experience for viewers using ad blockers

Wikia is not accessible if you've made further modifications. Remove the custom ad blocker rule(s) and the page will load as expected.