Kurara Hananokoji

Kurara as she appears in Power Instinct 2.
Alternate names
Clara Hananokoji
Kurara Apricot
Nickname
The magical girl of your dreams
Age
13 (PI2), 14 (Matrimelee), 15 (Senzo Kuyou And Purikura Daisakusen)
Birthdate
November 12, 1981
Birthplace
Yokohama, Japan(Power Instinct Series) Miracle World (Purikura Daisakusen
Height
153 cm
Weight
Secret
Blood type
B
Footsize
23 cm
Favorite color
Red (because it's the color of passion)
Favorite food
Ice cream
Least favorite food
Onion, Green pepper
Animal
Monkey
Zodiac
Scorpio
Occupation
Junior high school student
Hobbies
Collecting hats, eating, ice skating and searching for a handsome rich man
Attack specialty
Attacks using her magic wand
Family
Saburou Hananokoji (Grandfather)
Aoi (Grandmother)
Ayako (Mother)
Tomiko (Aunt)
Mitsugi (Older brother)

"You may call me Miss Kurara."
Kurara Hananokoji (花小路 クララ, Hananokouji Kurara) is a character in the Power Instinct series, having made her debut in Power Instinct 2 and has been a recurring character since. She was designed by Range Murata, and in her first two in-game appearances she was voiced by seiyuu Kotono Mitsuishi, best known for her role as Usagi Tsukino of Sailor Moon. Kurara has become one of the more recognizable characters in the series, having gained enough popularity to star in her own spin-off game, Purikura Daisakusen as Kurara Apricot (クララ・アプリコット), and made a guest appearance as a hidden character in a console port of another Atlus fighting game, Heaven's Gate.
Kurara's design was inspired mainly by the anime series Sailor Moon and Creamy Mami, in which young girls gain magical power using a Magic Wand and also gain the hability of transforming in alternate forms of themselves.
In Matrimelee, her name was changed to Clara, a common English name that sounds similar (and would be pronounced the same way in Japanese).
About Kurara
Edit
Kurara was a normal girl, until one day she met a wizard that lives in her city. She then began to visit the wizard everyday to talk and help him with his home duties. The wizard, grateful for Kurara's help and company, gave her a golden wand that allows its owner to use special magic.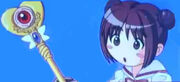 With an independent and extravagant personality, Kurara is a bit ambitious and capricious at times and has sudden mood changes, but that is quite normal for a 13 years old girl that is uneasy about the future. She likes money, enjoys traveling around the world, and highly dislikes poverty. Her favorite animals are pigs and her ideal man would be  a handsome man with lots of money that would litsen everything she wants to say.
She considers herself as a late riser and in her free days she usually gets up at eight o clock in the morning. When Kurara has time to relax, she enjoys drinking tea at her home's balcony having deep thughts,like what kind of man will be her houseband.
On afternons, Kurara usually hangs out with her friends Keiko and Aya. They like to go shopping together. Kurara says that Keiko and Aya are as cute as herself. In her school life she is doing pretty good, her favorite subject is japanese literature and the last book she readed(by the time of Power Instinct 2) is Kokoro from the autor Soseki Natsume. Kurara learned the importance of foreseeing after reading this book. Kurara thinks that she is smart enough to be accepted into the Tokyo University.
By the time of Power Instinct 2 Kurara showed some kind of interest for three boys and they are:
Shinichi: Kurara likes to go shopping with him. Shinichi is rich.
Kenji: Kurara likes to go to partys with Kenji, who according to kurara is handsome.
Hidaka: When kurara feels stressed or tired, she likes to spend time with Hidaka. Hidaka is a masseur.
Among her multiple goals, she wants to become the Goketsuji leader and be rich, travel to Egipt, get a luxurius tiara and meet a wonderful man while traveling.Her ideal date would be having dorayaki with the man of her dreams in front of the parthenon.
Kurara lives in Yokohama, from the window of her room can be seen the harbor view park of yokohama. Near of her home there is a foreing cemetery, she can get there in ten minutes by walking. Kurara has an older brother named Mitsugi who is 12 years older than her, but despite the age difference they have a very good relationship.
Participation Details
Edit
Kurara's dream is to become a beautiful bride, but first she has to find her ideal man. She participates in the Gouketsuji tournament to earn the money to travel around the world to find the prince of her dreams.
After having failed in the previous tournament, Kurara is willing to make a second try by winning a world tour.
The Matrimelee tournament seems to be the perfect opportunity to make her dream come true. The prize is getting married to a prince. Kurara accepted the invitation for the tournament, thinking that the Prince would be handsome...
Being a girl that wants to do a lot of fun stuff, Kurara signed in for the Bonnou no kaihou tournament inmediatly, in order to win and fulfill her dreams.
Kurara feels that the festival is a good chance to find a rich handsome boy, so, pulling out her magic wand, she prepares to join into the tournament.
Purikura Daisakusen
Edit
In the Game Purikura Daisakusen she appears as Kurara Apricot, the princess from a peaceful kingdom called Miracle World. In the story of Purikura Daisakusen, Kurara was in a training journey in another world, and when she retuned to Miracle World, she found her kingdom invaded by an army of machines. Kurara later meets with her sister Kirara and her brother in law, Grey, they inform her that queen Urara (Kurara and Kirara's older sister) was kidnapped by the leader of the scrap empire. So they start a mission to restore the peace in Miracle world and to rescue the queen.
Kurara has a slightly different design and there are a couple of details in her profile that differs from the Power Instinct series(Birthplace, Age, Height) but overall, all her other characteristic and personality traits remains the same and her bio confirms that when she stays on planet earth she uses de identity of Kurara Hananokoji, however, her two sisters doesn't appear in the genealogic tree from the Power Instinct series, as well as Mitsugi, brother of Kurara and their mother Tomiko are not mentioned in Purikura Daisakusen, so it's not confirmed if the event's in Purikura Daisakusen are canon in the Power Instinct Universe or is just an alternate reality for Kurara.
Heaven's Gate
Edit
Kurara appeared as a hidden selectable character in the console port of Heaven's Gate. However, there is not official story or ending for her, just a small profile with information that seems to came from Purikura Daisakusen(her age and her birthplace) although her lineage is listed as Hananokoji.
Her fighting style and moveset are completely different to those from the Power Instinct series. She is more like an alternate costume for Nanase(another playable female character ) than her own character, sharing most of her moves(with different names) and special effects. Also, her two portraits are reused artworks from Power Instinct 2 and most of her voice samples are from Purikura Daisakusen.
Special Moves
Edit
Heaven's Gate Exclusive Special Moves.
Edit
Super Kurara
Edit
Music Themes
Edit
Appearances
Edit
Related Characters
Edit
The transformation phrase she shouts to change into Super Kurara is "Yumemi ru shoujotachi ni kawa te Dream Soldier Power Change, Super Kurara nio makase yo!" ("I'll be the girl of your dreams, Dream Soldier Power Change! Leave it to Super Kurara!")
Ad blocker interference detected!
Wikia is a free-to-use site that makes money from advertising. We have a modified experience for viewers using ad blockers

Wikia is not accessible if you've made further modifications. Remove the custom ad blocker rule(s) and the page will load as expected.