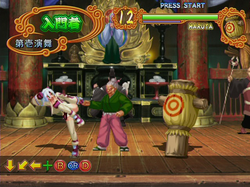 Maruta is an unplayable character debuting in the latest game in the series, Goketsuji Ichizoku Matsuri Senzo Kuyou. It seems to be taking the role of that of a dummy in the game's training mode bonus game. It appears as a wooden straw dummy with a bullseye painted on it in the middle.
Its name means "log" in Japanese, which more or less fits the character.
Ad blocker interference detected!
Wikia is a free-to-use site that makes money from advertising. We have a modified experience for viewers using ad blockers

Wikia is not accessible if you've made further modifications. Remove the custom ad blocker rule(s) and the page will load as expected.