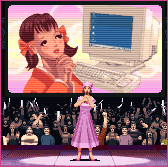 Michiko Hikarino (光野道子, Hikarino Michiko) is young woman who sings about love on the internet, singing the tale in How Wonderful! The Internet! in Power Instinct Matrimelee and Shin Goketsuji Ichizoku: Bonnou no Kaihou.
Appearances
Edit
Power Instinct Matrimelee
Shin Goketsuji Ichizoku: Bonnou no Kaihou
Michiko's name is a pun. The Japanese characters her name is written in are normal, but the pronunciation sounds like 'Hikari no Michi Ko' which means 'Fiber Optics Girl', or 'Child of Fiber Optics'. [1]
References
Edit
Ad blocker interference detected!
Wikia is a free-to-use site that makes money from advertising. We have a modified experience for viewers using ad blockers

Wikia is not accessible if you've made further modifications. Remove the custom ad blocker rule(s) and the page will load as expected.