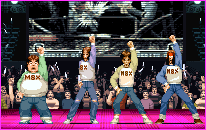 The Gamers (ザ・ゲーマーズ) are group of young men who are fighting game fanatics and sing the song "Fighting Games for Young People" in Matrimelee and Bonnou no Kaihou. They were voiced by Dencyu, Fujiwara Masanosuke, Ryuji Motou and O-chan.
The "MSX" on their shirts is a reference to the MSX computer from the 1980s.
Appearances
Edit
Power Instinct Matrimelee
Shin Goketsuji Ichizoku: Bonnou no Kaihou
Goketsuji Ichizoku Matsuri Senzo Kuyou
Ad blocker interference detected!
Wikia is a free-to-use site that makes money from advertising. We have a modified experience for viewers using ad blockers

Wikia is not accessible if you've made further modifications. Remove the custom ad blocker rule(s) and the page will load as expected.