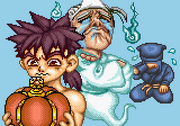 Tokuji Oyama
(大山 徳児,
Ōyama Tokuji
) is the father of
Reiji Oyama
, who has so far only been shown in two games, namely in Reiji's endings in
Power Instinct
(Super Famicom version) and
Power Instinct 2
. He apparently already died before the events of the first game.
In the manga series, he had an affair with a female Kuroko. As result of that relation he had a daughter named Megumi Oyama (大山 恵, Ōyama Megumi), but this is not part of the official canon.
Ad blocker interference detected!
Wikia is a free-to-use site that makes money from advertising. We have a modified experience for viewers using ad blockers

Wikia is not accessible if you've made further modifications. Remove the custom ad blocker rule(s) and the page will load as expected.