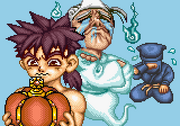 Tokuji Oyama
(大山 徳児,
Ōyama Tokuji
) is the father of
Reiji Oyama
, who has so far only been shown in two games, namely in Reiji's endings in
Power Instinct
(Super Famicom version) and
Power Instinct 2
. He apparently already died before the events of the first game.
In the manga series, he had an affair with a female Kuroko. As result of that relation he had a daughter named Megumi Oyama (大山 恵, Ōyama Megumi), but this is not part of the official canon.
Power Instinct Matrimelee
Edit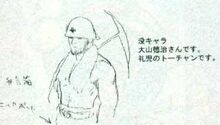 Tokuji was considerated to appear as playable character in Power Instinct Matrimelee. His bio described him as a man that was tired to be the head of a Karate dojo and currently retired from martial arts but still in great physical shape. In his design for Matrimelee he is a bearded atletic looking man wearing some baggy pants and a helmet and shirtless, similar to the construction work costume that Reiji wears in some official artwork. It is unknown if the plan was to retcon the previous established canon about Tokuji or if the development staff temporaly forgot his deceased state. It should be mentioned that in a manga series, Tokuji was just believed to be death, however he is revealed to be alive.